We are a company that is based on quality service and a professional mindset. We strive to offer the best possible version of this service type by leading the industry with a straightforward approach and a state-of-the-art cleaning operation. We utilize specialty service software, customized Sprinter vans and tools, and high-efficiency stainless steel baffle filters. Our methods stem from our affiliated national brand, FilterShine USA, which includes 20+ FilterShine dealerships across the United States.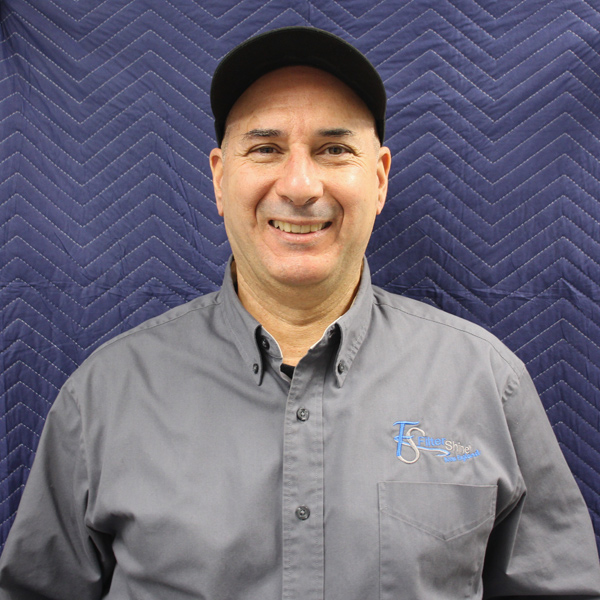 Stephen Martin Kassaras
Owner/Partner
Stephen was born August 16, 1960 and has always been an outdoor person, enjoying hunting, fishing, hiking, sports, camping, and drumming (which he classifies as his indoor sport). In 1992, he bought his first of four General Nutrition Centers franchises. Later in 2004, he decided to get his license for commercial real estate; four years later he purchased one of his listings, Summer Freeze, a seasonal ice cream and grill in Concord, New Hampshire. During his restaurant's kitchen exhaust system cleaning, Stephen helped Jerry (the KEC company owner) with the work. When the cleaning was complete, Jerry commented that if Stephen ever wanted to start a hood cleaning company, that he would do pretty well, and Jerry would give him his first customers to get started.
That same year, at Christmas dinner, Stephen was discussing how the construction industry was doing poorly with his brother-in-law, Richard. Stephen told Richard about Jerry's proposal and asked if he would be interested in starting a hood cleaning company, to which Richard replied yes and suggested they pray on it. A few weeks later, in February 2009, they decided to move forward with starting Dependable Hood & Duct Cleaning Company, LLC. In 2014, Stephen and Richard decided it was time to diversify.
In 2014, Dependable Hood started buying products through KEC Supplies and Stephen hit it off with the owner, Jason Wellman. They would talk at length about business, and they found a rare, good friend in each other in an otherwise pretty lonely industry. Over the next two years, Jason had talked a lot about his filter business, FilterShine USA. In July 2016, Stephen sent Jason the down payment for the New England territory. In October 2017, James Luebke and Austin Youndt came to New Hampshire and installed FilterShine New England's operation.
FilterShine New England started servicing their first customer in early December 2017. The next eight months were spent selling and converting Dependable Hood's customers to include the new FilterShine Exchange Program. Due to the EPA's increased interest in kitchen exhaust cleaning, specifically the mishandling of contaminated gray water into the environment, FilterShine New England has taken a proactive approach to protecting the environment, their customers, and the company's exposure to EPA fines.
Richard Amador
Owner/Partner
Rich is the product of a big family with five siblings, dozens of first cousins, uncles, and aunts on both sides of his family. His family is ethnically diverse but hugely patriotic and American through and through. Rich is from a God-fearing heritage and was only one generation away from immigrant grandparents. On both sides of his family, his grandfathers were immigrants; one a refugee from Mexico and Mexican tyranny in the 1920s and the other stowed away as a young child of 12 years on a merchant boat from the Philippine Islands in 1917. This heritage of longing for freedom and the dream of his grandfathers living in a free society in America is something that was instilled in Rich's mind and soul from childhood. This has been a driving force in his love for our country, love of people, and motivation in his entrepreneurial endeavors.
He was born and raised in the Denver, Colorado area until he was 29 years old and moved to New England in 1987. Rich has his bachelor's in humanities and public speaking from Bob Jones University and got married to a New Hampshire girl, Kelley Kassaras, in 1983. They have built their lives together all these years and are only a couple of years away from their 40th anniversary. Rich and Kelley have seven children and three grandchildren with two more on the way. Rich is an elder in his church and devotes much of his extra time to the ministry of counseling families and the teaching of scripture. He loves to read and has always been a huge fan of sci-fi, in all of its media forms, since reading his first sci-fi book by Isaac Asimov in 1968. Rich loves to go fishing and still dreams of "a cabin on a lake with no one around for miles." With his hand still in a couple of business ventures, Rich is looking forward to the retirement years. Perhaps that cabin on the lake isn't too far off.
John Elias Kassaras
Operations Manager
Elias started in the kitchen exhaust world in 2009 with Dependable Hood & Duct, a kitchen exhaust cleaning (KEC) company and sister business to FilterShine New England. Elias's role at FilterShine New England is every role! From filter exchanges, cleaning and repairs, to billing, contract creation, and customer interactions, Elias can do it all. He has his hand in every piece of the company and his goal is to master it and help it grow by constantly finding ways to improve upon the current business model. He wants to show the New England area that they have a solution for one of the biggest headaches that plague restaurant owners and kitchen staff everywhere.
Adrianna Amador
Administrator
Adrianna started working for the family business in 2018. By 2019, she was fully trained in the administrative side of work and had taken on the scheduling for FilterShine New England. Once she had mastered the routes for each week, she moved on to take over invoicing. Between scheduling and invoicing, Adrianna can answer any questions you may have about what becoming a FilterShine New England customer will entail.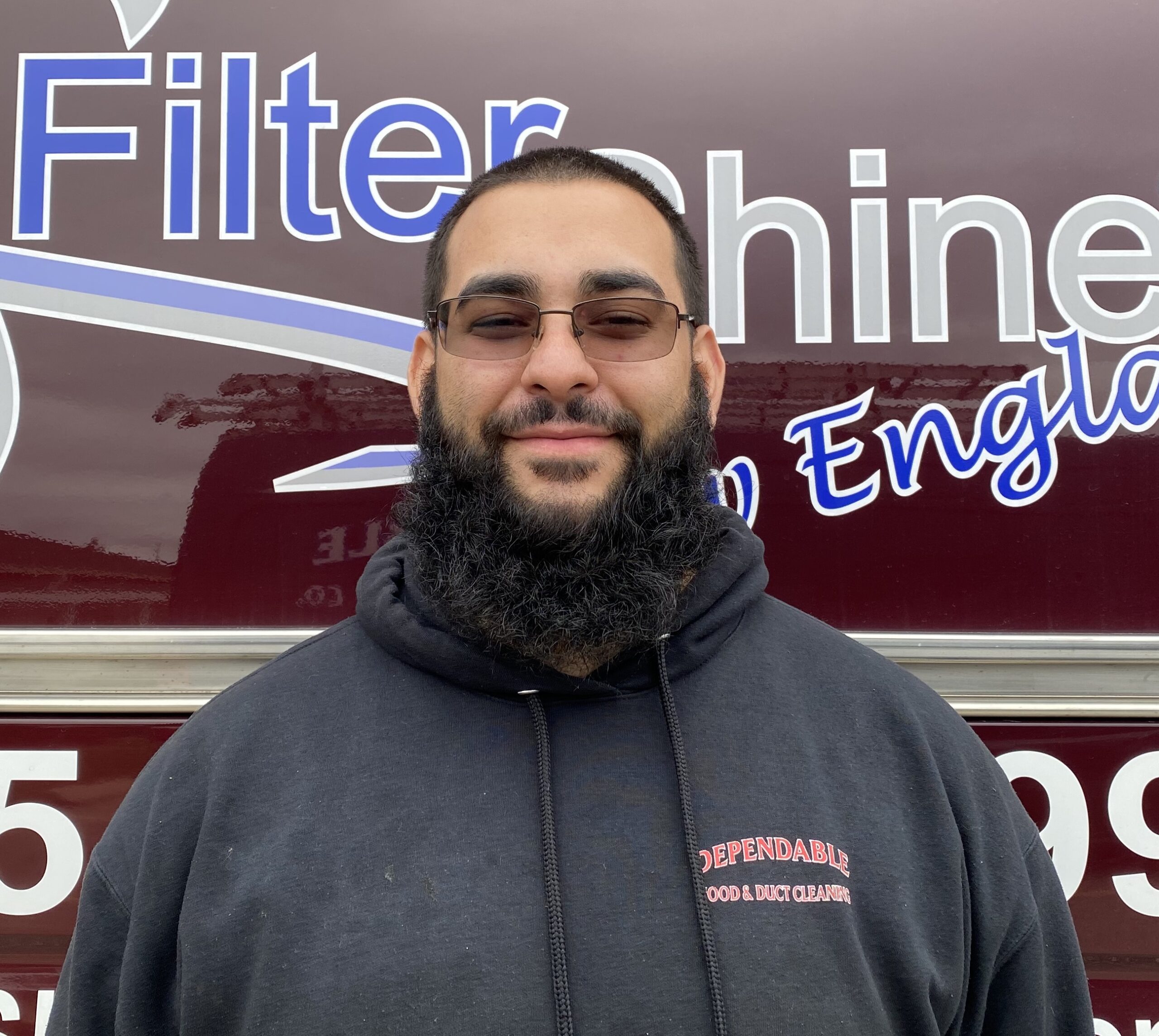 Jeremiah Turgeon
Technician
Jeremiah has been in the kitchen exhaust cleaning industry for over two years, and he has been working with FilterShine for over a year, interacting with every exchange location for both our large and small customers. He was offered to be a part of the FilterShine exchange program because of his organizational skills and ability to keep track of things, which are in part due to his time in the military. He is motivated to learn new things, so he is always trying to learn something that he doesn't know or getting a refresher course in the things he doesn't know well.  No matter where he goes, he always treats everyone with respect and tries to fix any issues a customer may have; no small issue goes unseen. You could also find him repairing and correcting any filter that may be damaged to insure it is in the best condition to serve our customers. When he is not out exchanging the baffle filters, he is in the shop cleaning, sorting, and repairing filters so they can be put back into rotation and ready for the next delivery route.
Levi Joseph Amador
Field & Operations Manager
Levi's role is anywhere from running filter exchanges and setting up contracts to sales and customer interactions. Levi has ten years of industry experience, giving him an edge to learning the new filter exchange business in addition to giving him a full understanding of what it takes to have the best product on the market. He has worked alongside his cousin, Elias, to help Elias gain better control in all aspects of this business. Through hard work and a natural attention to detail, Levi has helped get FilterShine New England up and running.
Kim Kassaras
Finances & Bookkeeping, Owner/Partner
Kim Kassaras has been with FilterShine New England since its induction. Her role in the company is as bookkeeper and partner. She handles the payroll, taxes, accounts receivable, and accounts payable, plus she is an administrator behind the scenes. Her role as a partner includes decision making on behalf of the whole company.
Get started with your FREE ESTIMATE